Item Number 37
Item Description
One of 72 segments which comprise a "Texas-sized" reproduction of the dramatic "Reading of the Texas Declaration of Independence" by artists Charles & Fanny Normann, originally created for the Texas Centennial Celebration in 1936. The painting memorialized the work of the fifty-nine elected delegates at Washington-on-the-Brazos who declared Texas independent from Mexico in 1836. The image was divided into 72 segments, then numerous local artists, both professional & amateur, were assigned a segment of the image to paint on a 2 X 3 ft. panel. These segments were assembled onto an 18 X 24 ft. grid to create an impressive reproduction of the painting, three times its original size. This one-of-a-kind item was unveiled for the 175th anniversary of the signing of the Texas Declaration of Independence.
Each panel is identified by number. Many panels were painted by Blinn College students and others by professional artists. The artist name will be listed, otherwise it was painted by a student. Each panel will include a "Certificate of Authenticity."
Special Instructions
ARTIST: DMITRI KOUSTOV
SIGNERS L-R: HERBERT S. KIMBLE (PARTIAL), JOHN S. D. BYROM, GEORGE W. SMYTH, AUGUSTINE B. HARDIN, MARTIN PARMER, MICHEL B. MENARD, STEPHEN H. EVERITT (PARTIAL)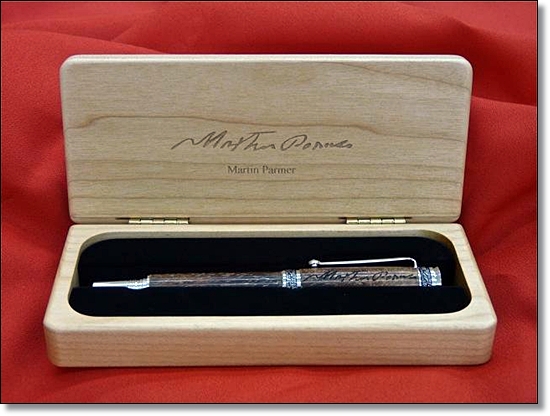 The Martin Parmer Pen
Item Number 138
Item Description
A master craftsman has created a unique series of high quality, ballpoint pens. Each pen is uniquely hand crafted from the La Bahia Pecan tree, located within the Park and over 180 years old, a living witness to the events of March 1836. Each pen bears the laser engraved signature of one of the signers of the Texas Declaration of Independence. Each pen comes with a 175th Anniversary commemorative case, which also bears the name and signature of the delegate from the Convention.
Signer: MARTIN PARMER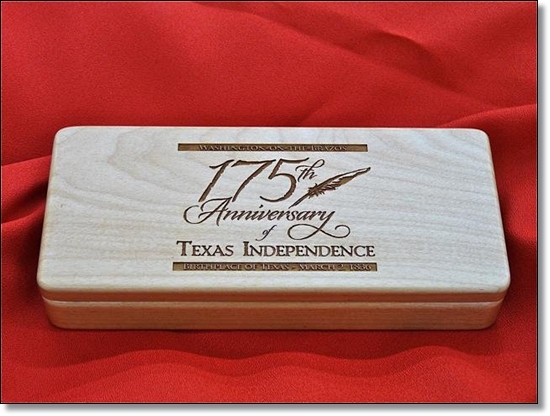 Martin Parmer Pen Box