2007 Palmer/Parmer Family Reunion - San Augustine, Texas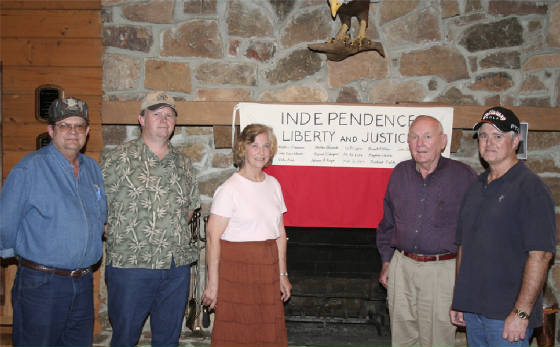 L-R: Mr. Lavon Tindall, cousin Eugene Dewveall, Ms. Liz Ware, Mr. Harry Noble and Tommy Palmer.
Welcome to the Palmer/Parmer Family Reunion Web Page!
2007 Reunion is Set for Saturday March 24, 2007!!!
Dear Palmer/Parmer Cousins,
It's time again for our Palmer/Parmer Family Reunion and this time we will gather at historic San Augustine, Texas where
Martin Parmer lived during the time of the Fredonian Rebellion in 1826 and later as a delegate from San Augustine to the Convention at Washington - on - the - Brazos in 1836.
When: Saturday, March 24, 2007
Agenda for the 2007 Reunion:
Friday, March 23, 3:00 p.m. - Check in begins at San Augustine Inn or Budget Inn in San Augustine, Texas for those arriving on Friday. (See Hotel information below)
4:00 p.m. - The San Augustine Civic and Tourism Center has a meeting room has been reserved for a "Get-Together." Light refreshments will be provided.
-----------------------------------------
Saturday, March 24, 8:00 a.m. - Registration at San Augustine First Methodist Church Hall.
9:00 a.m. - Reunion begins at the church hall. There will be a tour of San Augustine. For those wishing to use this time to discuss family history and genealogy, the Church Hall will remain open.
Our tour leader will be Mr. Lavon Tindall and other local members of The Sons of the Republic of Texas. We will tour Martin Parmer's property on the Ayish Bayou, as well as historic churches, cemeteries, homes & buildings and the Mission Center Archive. For those of you wishing to decline the tour, the church hall will remain open to use during this time to discuss family history and genealogy. The church hall has a nursery and game room at our disposal, but we need to provide attendants. Contact Tommy Palmer if you can volunteer. (979) 798-1957 or Cell (979) 299-7031
11:00 a.m. -
Special guest speaker Mr. Harry Noble, a local historian, will speak on Martin Parmer and the early history of San Augustine.
12:00 p.m. - BBQ, will be catered for lunch in church hall. Bar-B-Q chicken / brisket, potato salad and beans. Adults $8.00. Children 12 thru 4 $5.00. Children 3 and under free. Adult orders after March 5, $10.00 and Children, $6.00. Please notify Eugene Dewveall: (281) 988-7333 or Cell: (281) 723-3733 with head-count and payment.
1:00 p.m. -
Kameron Searle and Tommy Palmer will discuss the Fredonian Flag. Kameron Searle will also have a 133 year old surprise for those attending the reunion. Afterwards, the floor will be open to those wishing to discuss
family history and genealogy. If you wish to be placed on the agenda, please contact Tommy Palmer.
Be sure to bring your genealogy charts, photos, and family histories to share with everyone.
4:00 p.m. - Discuss 2009 reunion plans and elect new officers.
4:30 p.m. - Reunion Concludes.
Please consider a donation to the 2007 Reunion funds!!!
Reunion Information:
There are two Motels in San Augustine: The San Augustine Inn - block of 40 rooms and Budget Inn - block of 18 rooms.
San Augustine Inn Budget Inn
1009 Hwy. 21 West 116 Hwy. 96 South
San Augustine, TX 75972 San Augustine, TX 75972
Phone: (936) 275-3452 Phone: (936) 275-0445
Bed and Breadfast:
The Columns Bed and Breakfast - (936) 275-3031
Whispering Pines Bed and Breakfast - (936) 275-2778
On the day following the reunion, Sunday March 25, 2007, many of you may wish to visit one or more of the excellent sights that San Augustine and Nacogdoches has to offer visitors. Below are descriptions of some the sights to see.
A Guide to San Augustine, Texas
Visitor Center:
The Visitor Center in San Augustine is a excellent place to find some History books for sale about the early days in East Texas.
The Old Stone Fort:
Located in nearby Nacogdoches is a replica of the Old Stone Fort where Martin Parmer fought and won a battle during the Fredonian Rebellion.
Information About the Old Stone Fort
Be Sure and Bring All Your Children and Grandchildren to the Reunion!!

A Special Thank You
I would like to extend our thanks and appreciation on behalf of the Martin Palmer/Parmer family to the people of San Augustine, Texas for all of your help and support during our recent family reunion.

The citizens of San Augustine went out of their way to ensure we had everything we needed. We basically had the whole town at our disposal.

We thoroughly enjoyed our visit, not just the rich history of the town, but also the friendliness of the people who live and work there.
A special thanks to Mr. Lavon Tindall for the tour and helping to organize our reunion, Ms. Liz Ware with the San Augustine Civic Center for all her help contacting people and facilities, Rev. Dave Avis and the First Methodist Church for use of their facilities, Ms. Mary Kay for providing meals, Budget Inn and San Augustine Inn for lodging, Mr.Brad Haley and the Chamber of Commerce for the warm welcome, our guest speaker Mr. Harry Noble for the presentation and pamplets on Martin Palmer and the local print shop.
The whole community is to be congratulated on the way they rallied together to welcome visitors. We will always remember San Augustine as the small town with the big welcome.
Tommy Palmer, Chairman 2007 Reunion
Officers 2007
Palmer/Parmer Family Reunion
President
Thomas (Tommy) Palmer
10907 Hwy. 36
Freeport, TX 77541
979-798-1957 home
979-299-7031 cell
979-373-5258 work
Vice President
Eugene Dewveall
17226 Mesa Springs Court
Houston, TX 77095
281-988-7333 home
281-723-3733 cell
Secretary
Sheila Cannon
14 Park Ln
Huntsville, TX 77320
936-435-9276 home
936-661-5248 cell
936-594-9055 work