From the front page of the "National Gazette and Literary Register" - Philadelphia, Pa. - December 29, 1825
Thursday, December 29, 1825 Edition

National Gazette and Literary Register - Philadelphia,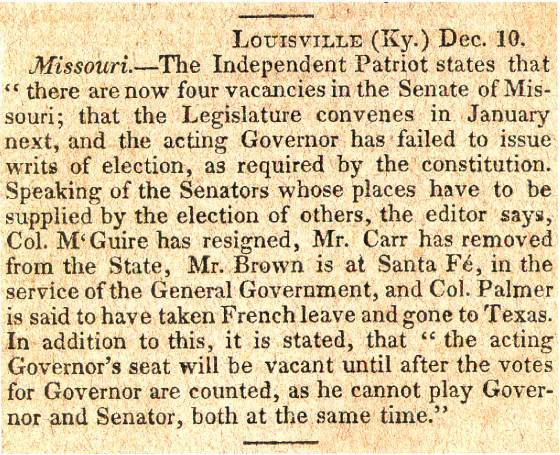 Collection of Kameron K. Searle
"...and Col. Palmer is said to have taken French leave and gone to Texas."
This article is interesting for several reasons. It is a very early reference to someone having "Gone to Texas." This phrase would become very popular more than ten years later to refer to the settlers who poured into Texas following the Texas Revolution in 1836. The article is also important in that it indicates in print that Palmer(Parmer) was believed to have gone to Texas in 1825. One last point of interest is that Col. Palmer(Parmer) already had the rank of Colonel before coming to Texas.
Wikipedia
(in the references section) uses the newspaper article on this page as an example of 'Gone to Texas' for the article on that subject. Click here to read the definition of "
French leave
."